Health Home
Click to Call
Great Healthy Home News
Home Health Study Results
In late 2014, we commissioned a leading independent air quality laboratory to conduct a study for us, with the goal of quantifying the healthfulness of our Hot Carbonated Extraction (HCE) cleaning method. We decided to not only test allergen removal from carpets, as one of our national competitors did, but also allergen removal from upholstery and our ability to remove bacteria from the home. The study was conducted in a cross-section of consumer homes in the U.S. and abroad, using our HCE process along with a pre-spray.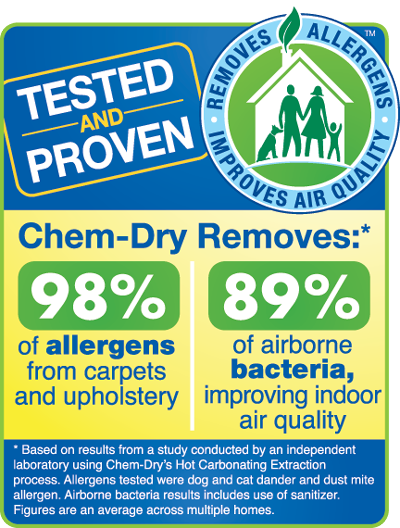 Home Health Study Results
We remove an average of 98.1% of common household allergens from carpets and upholstery (combined). The common household allergens we tested were cat dander, dog dander and dust mite allergen. This broke down further into the respective service lines as follows:

We remove an average of 97.4% of allergens from carpets

We remove an average of 99.1% of allergens from upholstery

We remove an average of 89.0% of the airborne bacteria in the home, showing that we have a significant impact on improving indoor air quality. This test incorporated the addition of a sanitizer to the cleaning process.