Our Services
Click to Call
What is the Chem-Dry Carpet Cleaning System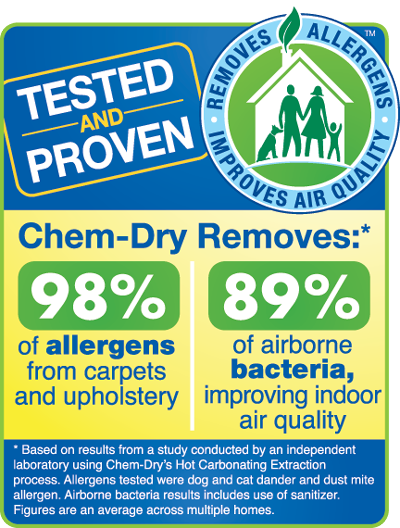 Chem-Dry, the world's largest carpet cleaning company, offers a revolutionary carpet cleaning process that uses carbonation and ingredients copied from Mother Nature to make carpets fresh and clean again.
So how does this innovation benefit you?
Your carpets will dry faster than ever before
Your carpets will come cleaner than ever before
Your carpets will stay cleaner than ever before
You will have no soaps, phosphates, detergents, surfactants, or other harsh cleaners in your carpets
Chem-Dry carpet cleaners safely clean with an amazing product called The Natural ®.
Natural ™ Area Rug Cleaning
It's In The Bubbles…
Surely, you have heard of using club soda to remove stains. It is amazingly effective. Ironically, club soda contains no inherent cleaning elements – the bubbles do the work. Chem-Dry's cleaning system acts exactly the same way.
It is an active, effervescent solution that explodes dirt and grime from your rug and lifts them to the surface where they can be removed. The process is completely safe and effective for your area rugs.
Upholstery Cleaning
Regular cleanings by us will add years to the life of your upholstery!
Most homeowners and businesses wait too long to clean their upholstery! Whether they are afraid of the cost of the service or the cleaning of delicate fabrics, they allow stains to remain untreated and soil unremoved for years, until it may be too late.
A proper, thorough cleaning by us can freshen and restore your upholstery and add to the life of the fabric. Our expert technicians are trained to handle the most difficult of fabrics, including Haitian Cotton, Silk, Wool, Velvet, and many other fabrics, including white and off-white fabrics that most services refuse to touch.
Pet Urine Removal Treatment – PURT
Following 10 years of research and testing by a team of Ph.D.chemists and botanists, Harris Research Inc. has applied for U.S and international patents on the most significant discovery in odor removal history…
P.U.R.T. was formulated to tackle even the most severe pet-related issues, and it's the most powerful product of its kind. We used our years of experience in the industry to design a product that surpasses all others in terms of both cleanliness and safety. Using a state-of-the-art cleaning formulation, P.U.R.T. begins a safe chemical reaction that immediately begins destroying odours.
Pet stains and odours offer a unique problem for many homeowners. Odours left behind as the result of pet stains and urination are the result of the deep penetration that occurs. Pet stains typically absorb well beyond carpet fibres, into the material located under carpeting.